HOME OF THE 15 YEAR OLD 2012 WORLD SERIES CHAMPIONS
2014 SEBR Fall Ball:
Games for Tuesday Oct. 7 are postponed due to weather. These games will be made up Oct. 16. For an updated schedule, please Click here
CONGRATULATIONS TO THE SEBR 14 YEAR OLD ALL STARS FOR THEIR GREAT RUN THIS SUMMER - OHIO VALLEY REGIONAL CHAMPIONS, AND PARTICPANT IN THE WORLD SERIES IN OCALA, FL AUG 13-22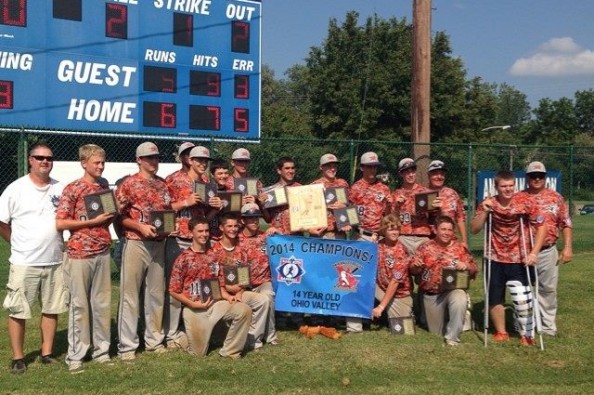 WANT TO HELP AT SEBR? CLICK HERE TO OPEN VOLUNTEER APPLICATION FOR
CURRENT BOARD MEMBERS:
President: Kevin Cruise kevincruiseone@yahoo.com
Vice Pres: Shawn Boggs shawn.boggs@ky.gov
JV League VP: Open
Secretary: Open
Players Rep: Open
Tournament Director: Open
Treasurer: Dan Wyse dcwyse@yahoo.com
Web Content: Scott Wilson scottw@twc.com
Parent Auxilary: Open
Fundraising: Ross Stinetorf rstinetorf@twc.com
Concessions: Sherri Bryant slbryant63@yahoo.com
Mgrs Rep: Mike Taylor taylormike@twc.com
Facilities Director: Schane Simpson: schane@twc.com
Facilities: Tim O'Neil TimONeil@twinsbaseball.com
Past President: Jason Berge berge.jason@gmail.com
AVAILABLE BOARD POSITIONS -
Several positions available - no baseball 'game experience' required - just a desire to help provide a great sports experience for your child !!
If you are interested in league sponsorship opportunities or would like to advertise on our website - please contact Ross Stinetorf at rstinetorf@twc.com
Thank you !
---
---